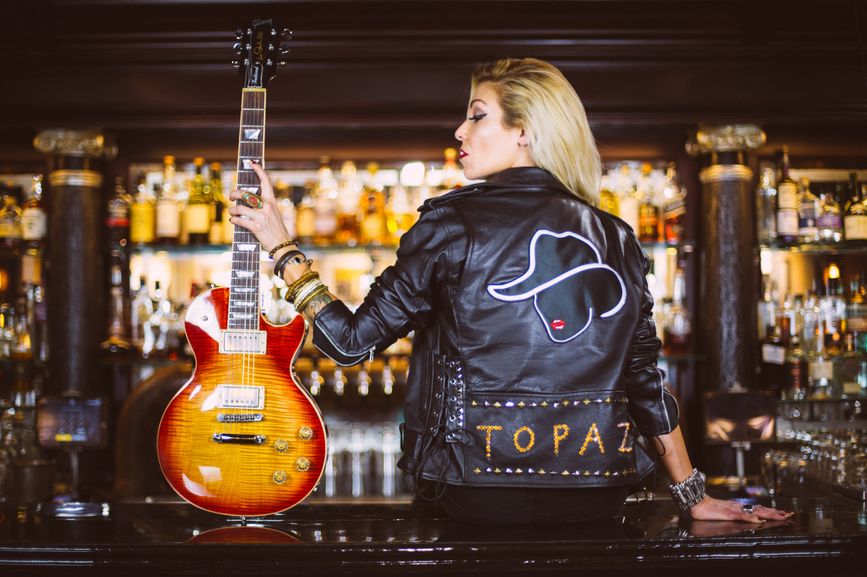 Teresa Topaz is an award-winning Southern Rock Performing & Recording Artist, Composer and Record Producer.  Her last single "Whiskey Kinda Girl" won Country song of the year 2020 from the Akademia Awards as well as the "Rising Star Award" in 2021. Teresa Topaz has been voter-nominated by The Willamette Week's Top 5 Best Rock Artist and
the "Guitar Goddess" by the Portland Tribune.
Teresa Topaz performs vocals and lead guitar live and in the studio, she performs all instruments with guest appearances on bass and drums. New music is in the works with a release date in 2022 and will begin to tour once again as soon as it is safe to do so with the pandemic we are all dealing with and trying to get through safely. Safety comes first. 
Her powerful vocal range meshes with a soulful bluesy grit shaping a rare temperament. Her electric guitar hooks real you in with catchy rhythms and screaming solos.  Always powerful and filled with emotion and ready to grab you and pull you in.  On her last LP, "Reset Me", she composed and performed all instruments on the album featuring Mr. Keith Waters on bass guitar, as well as produced the album alongside Engineer and Co-Producer, Tim Biedron.  Teresa Topaz is a rising leading woman in rock n roll and a force to be reckoned with. 
Teresa Topaz has an appreciation of every genre and style of music– along with the ability to put it all together in a unique, ever-changing combination.  On her LP, "Reset Me", she composed and performed all instruments on the album except for Mr. Keith Waters on bass guitar, as well as produced the album. 
To gain this rare ability, Topaz was, first of all, born to music-loving parents.  Born and raised in Los Angeles, her mother is a fine artist, and her father was the originator of the futuristic concept car show, having established the Auto Expo in the 1960s.  Her parents gave her an environment filled with two wildly different tastes in music. 
Her father's - Cole Porter, Ella Fitzgerald, Billie Holiday, and the like -- and her mother's music: Bob Dylan, Led Zeppelin, Jimi Hendrix, Pink Floyd, etc.  Topaz took all that in, along with the grunge rock, 90's scene and hard rock that was playing at the time, Pearl Jam to Tori Amos.  It makes for an extraordinary musical experience. 
Topaz has been singing since she was 6.  In school she entered choir and theater and started learning to play guitar at the age of 12.  She went to college in Los Angeles, but left before completing her Associates degree to pursue music. 
At about age 21, Topaz started  bartending in Hollywood, which allowed her to work around live music and still do gigs on the side.  By 2007, she had moved from L.A. to Monterey, California, and had become General Manager of a night club. By 2011, Teresa had moved to San Francisco.  By 2014, she took the full leap and stopped working in restaurants.  She had been stuck in a day job and finally found the guts and faith in herself necessary to let go of financial stability and simply pursue her dreams.
In the capital of the 60's Music revolution, the Bay area had invited Topaz to play the stages of iconic clubs : Milk Bar in Haight-Ashbury, Red Devil Lounge, the Fenix , 1015 Folsom, to name a few.  She completed her first EP, New Beginnings, featuring her vocals and acoustic guitar. Recognition was finally arriving.  On ReverbNation.com,  as a "Singer-Songwriter", she quickly broke into the local Top 10 ranking.  In addition, TV 101 , Santa Cruz, featured an entire hour live unplugged set promoting her new EP. 
"I live to inspire "
 Teresa Topaz